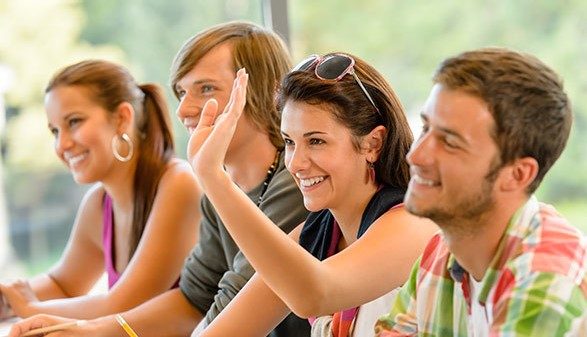 Information about our Spanish Intensive Courses
An intensive course is the ideal way to learn a language rapidly. In just two weeks you will be able to see a great improvement in your level of Spanish.
The Language House Spanish courses are geared towards making the students really speak the language. You will learn to speak Spanish from the very first day in class with our fun, professional native teachers who use a wealth of resources and activities developed specially to make the most of your classes. You will learn the key skills in the language: Speaking, Listening, Reading and Writing as well as learn to interact with the local community through our more practical lessons and activities out of class.
Prices
Nº of weeks
Intensive (20hrs)
Intensive Plus (25 hrs)
DELE (20 hrs)
2 weeks
324€
574€
460€
3 weeks
442€
772€
630€
4 weeks
560€
985€
800€
4+Extra week
+140€
+246,25€
+200€
Enrollment fee (includes books)
50€
The Language House offers social and cultural activities to practice your Spanish outside the classroom. We always have some type of social activity happening in the month to help our students practice in real situations: Language exchanges between Spanish and English speaking students, Quiz nights in Spanish and English, Spanish breakfast chats, cinema outings, competitions and many more activities to practice what you've learned in class. Many of these activities are free or cost the price of a coffee or beer so there's no excuse!

Courses
General Spanish Intensive course – 20 hours per week

Spanish Intensive course Plus– 20 hours in group + 5 hours in private per week

DELE Intensive course – 20 hours per week

Hours per week
Choose from 20 hours per week in a group or 25 hours (20 group hours + 5 individual classes)
Start dates
Courses start on Mondays except for complete beginner's courses which start on the first Monday of each month.
Levels
From complete beginners (0) to mastery (C2). Courses offered in all levels in accordance with the Common European Framework of Reference for Languages (CEFR)
Number of students per class
Maximum 8
Number of weeks
Minimum 2 weeks
Social activities
The Language House offer several different activities to compliment your course. See our activities page to see what is on offer.
Class duration & timetable
Each class lasts 55 minutes. The day is divided into 1 hour 50 minute sessions with a small break in between. The group classes are in the mornings.
Accommodation
There are various options available. From staying with a host family to staying independently at a hotel. See our accommodation page for more information.