The Language House  |  SAN PEDRO DE ALCÁNTARA
Calle Antonio Machado, 5
T | 952 85 30 27
The Language House San Pedro opened its doors in 2002 and has recently been refurbished to give it a more modern look. This centre has 6 classroom, a teacher's room, reception and waiting room. Most of the classrooms are on the 1st floor of the building in Antonio Machado Street, however we also have a special classroom downstairs for our younger learners. The centre is a 5-minute walk from the Church Square, which is the central meeting point in San Pedro.
San Pedro is a small town next to Puerto Banus and just 10 kilometres from Marbella. It is a picturesque town with a beach and one of the nicest promenades along the coast. San Pedro has retained its essentially Spanish flavour and there are plenty of good quality bars and restaurants, many of which can be found near the school.

Along the pedestrian street and in the town square you can see the town come alive for the traditional evening stroll with the family at dusk. Later, if you have the stamina, you can enjoy the bars and discos until the early hours of the morning.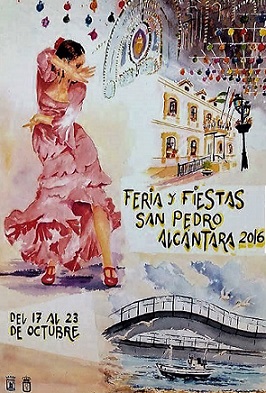 The San Pedro market on  Thursdays, where you buy everything from fresh fruit and vegetables to traditional Andalucian pottery, is a great place to practice your new Spanish skills.
There is always something fun to do in San Pedro, however, if you are lucky enough to be here in October, you can witness one of the most vibrant ferias along the coast. During the day fair, you can see some great dancing and enjoy the tapas and special wine whilst at the night fair, you can go on some exhilarating rides.
[mappress mapid="3″]
The Language House  |  MARBELLA
Calle Valentuñana, Edf. Marbelsun III 1º – 5
T | 952 85 70 87
The Language House Marbella is situated in the heart of Marbella, just a minute from the main street Ricardo Soriano. We have 5 classrooms in this centre, a computer room, teacher´s room, waiting room and reception.
Marbella is a well-known town on the Costa del Sol. Although it is famous for its beaches and great nightlife, it also offers many different opportunities for those looking to improve their Spanish and get a feel for the Andalucian culture. Marbella is ideally located to explore other Andalucian cities such as Malaga, Ronda, Granada, Sevilla and Cordoba and is easily accessible from Malaga or Gibralter airports.

Marbella has a beautiful old town with the famous Orange Square, lovely beaches and a charming fishing port where you can sample the most delicious fresh fish. There are many cultural activities going on in Marbella. There is a main theatre and lots of other groups offering productions in smaller venues. You can see Flamenco shows, go to the cinema and see live music in many different places.  The Marbella fair takes place in June, and is a great opportunity to practice your Sevillana dancing.
It is also a fantastic place for sports and adventure lovers. Whether you like water sports for example, diving, windsurfing and kitesurfing or you prefer the mountains, for example, hiking, biking, climbing. There is something for everyone.
[mappress mapid="5″]
The Language House  |  COÍN
Calle Bartolomé Abelenda Fernández, local 1, 29100
T | 952 45 15 36
The Language House Coin is located next to the Post Office and just 2 minutes from the Town Hall. We have recently expanded our Coín school to meet growning demand and it now has 4 classrooms, a teachers´room, reception and waiting area.
Coin is a lovely market town set in the beautiful mountains of Malaga. Only a short drive inland from the coast, Coin offers a real authentic taste of Spain where you can mix with the local people and practice your Spanish. Coin is famed for its local festivities and gastronomy so there's always something to do.

 As Coin is located in the mountains away from the tourist hustle and bustle, there are fewer non-Spanish living in this town making it a great place to practice your Spanish. There are always events and festivals going on for example, the Orange Festival in April or their local fair in June.
[mappress mapid="4″]