Typical Spanish breakfast in the sun
Breakfast in the sun
As is already a habit in The Language House, the A2 Spanish group with their teacher and our Head of Spanish Raquel, have carried out several outings this term.  Their favourite was visiting a local Restaurant for  breakfast in the centre of San Pedro Alcántara. As well as practicing their vocabulary from the classroom and trying the local delights, they took a stroll through the centre, getting a better understanding of everyday life in this beautiful seaside town.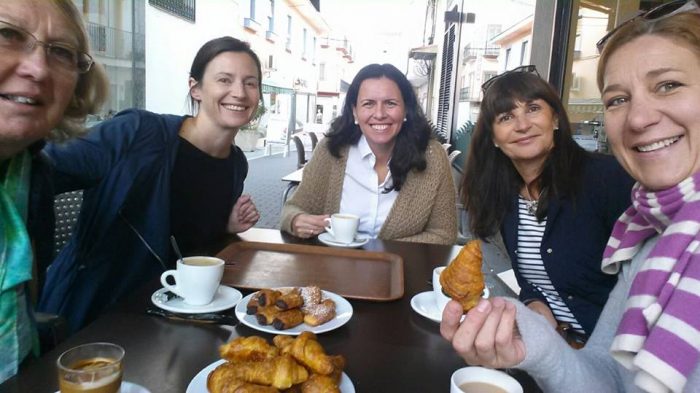 Typical Spanish breakfast
As you can see from the photo, on this occasion the class opted for a more European selection of pastries to share. So, what is a "typical Spanish breakfast"?
To call a certain type of breakfast 'typical' is to say that everyone eats the same food all around the country which, if you have been to the north and south of Spain, you will know is not the case. Here in southern Spain, you will find certain foods on the breakfast menu such as "Churros" or "Mollete con tomate" or even a "Catalana". Here's a quick run down of some of the most popular with photos and a brief description so you can confidently one the next time you have breakfast:
Churros: A dough mixture made of flour, water and salt, squeezed into a spiral and fried. It is typically eaten dipped in chocolate or sugar or even cafe con leche. There are two types of "churro", the long chunky spiral and the crinkly cut ones which tend to be thicker and more substantial. Either one are delicious after a long 'Feria' night or a lazy Sunday morning.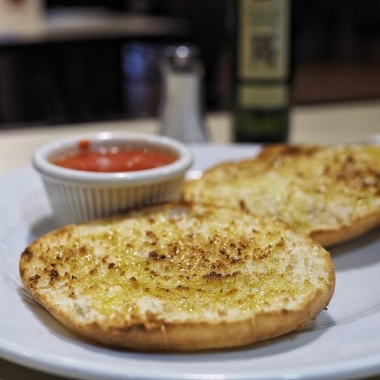 Mollete con aceite y tomate: A 'Mollete' is a type of bread roll originally from Antequera, in the province of Malaga. It is soft with a sprinkling of flour all over, perfect for toasting. In Andalucia, we have it with olive oil and grated tomate. Try rubbing a cut clove of garlic over the surface first before drizzling the oil and add a few grains of salt for an authentic taste of rural Andalucia.
Una Catalana con mollete: This is the same as above but with added Iberian cured ham in a sandwich. If you get a chance to go to a traditional *venta on your way up to the campo, don't hesitate to ask for this breakfast, especially if they stock good Iberian cured ham.
*A venta is a restaurant on the side of the road with traditional fayre, more often found out of town in the countryside or campo.