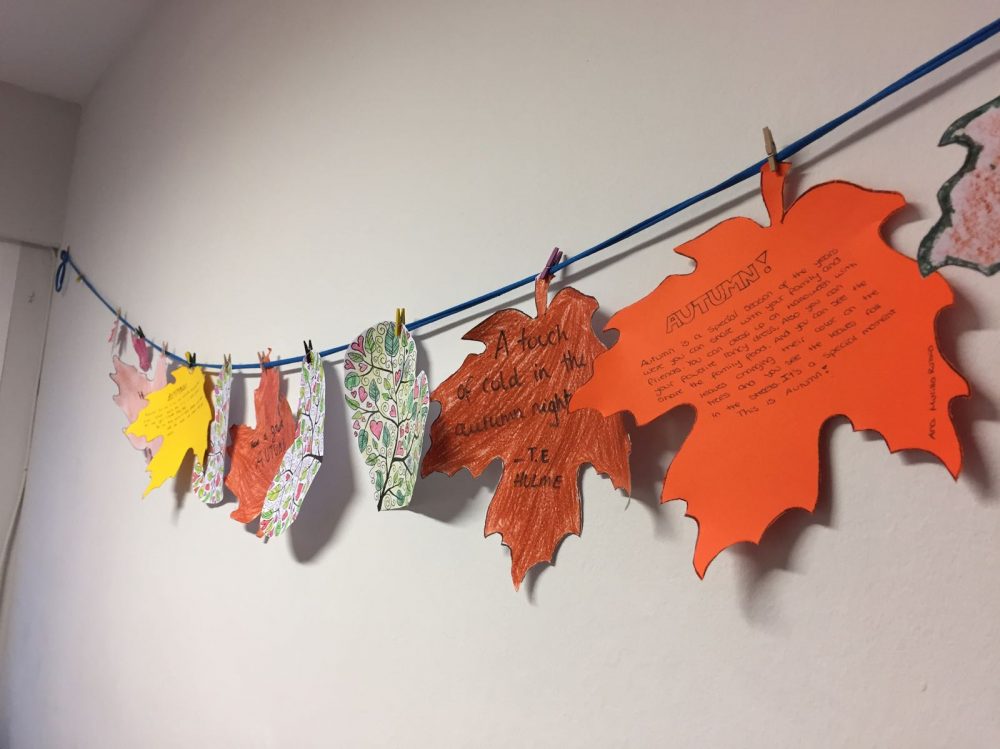 Autumn at The Language House
Autumn officially began this year on September 22nd and so here at The Language House, the months of October and November were filled with ways to celebrate the season. Of course, no learning was set aside to make room for autumn activities, but instead our amazing teachers found creative ways to incorporate seasonal fun into their normal classroom routine and trimester program to keep their students excited, motivated, and focused on their language learning, whatever their age or level!
Each centre designed their own autumn program with their groups in mind, so that all of our students not only participated, but found learning and practicing their English and Spanish interesting and exciting.
In Coín, a full autumn mural was created by several classes using key English grammar functions and new vocabulary. Students and teachers alike enjoyed creating hedgehogs and practicing this/that/these/those (an infamous part of learning English!) together. For bonfire night on November 5, our Coín centre also practiced a range of body and clothes vocabulary to build, school-wide, Guy Fawkes himself and, as it is traditionally done in the UK, collected money for his creation. Not according to British tradition, though, monies collected didn't go to Mr. Fawkes' creators, but was donated instead to the Spanish Association Against Cancer.
In Marbella, many of our younger students created autumn family trees to reinforce family vocabulary with an autumnal touch. In November, Marbella also hosted the first bi-lingual pub quiz of the year so Spanish and English students alike could practice their language learning. Pop trivia questions, asked in English and Spanish alternatively to teams of teachers and students meant everyone had a good time practicing a new language -and for a good cause, too, as all entry fees went directly to a local charity.
Like Marbella, our San Pedro centre also hosted local pub quiz with great success. Being able to utilize in-class language and skills in an informal setting really builds confidence and, like we try to do every day in all our classes, students were actually learning their language without even realising it -the best kind of learning there is! Within the academy walls this autumn, our beginner students in San Pedro also had fun creating autumn family trees, complete with family descriptions, clothes, and a bit of theatre. But for many of our older and more advanced classes, autumn meant writing creative stories and poems to honour the season, what it brings, and what it means to us. Creativity is a big part of learning, practicing, and feeling confident when using a new language, so this was an ideal way to encourage not only new vocabulary but useful learning skills so students can become more self-reliant, too, especially when speaking outside the classroom setting.
Across all three centres, this autumn we hosted our first social event of the year – a breakfast conversation exchange in Marbella. It was a beautiful morning and a great way for Spanish and English language learners to get together and use their classroom learning in a practical way. We hope to have another after the New Year, so keep your eyes open for news!
Our two days of Halloween were also highly anticipated events for all of our students who were allowed to dress up for the day while doing "spooky" activities -creating crazy monsters to practice names of body parts, making animal masks to reinforce animal vocabulary, listening practice using Michael Jackson's "Thriller", scary storytelling in multiple languages, and more.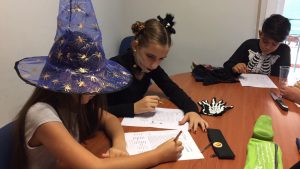 Our teachers also underwent additional training throughout this trimestre in order to develop themselves further with -of course, all of them learning new skills the same way they teach them in the classroom: using The Language House method of learning through fun, interactive, didactic activities that require full body, full mind participation (what we like to call "gamification") – because learning that way is not only more exciting, but it forces students to use new language and new language skills in a practical way, which, in turn, makes it more memorable. Most of the time, our students don't even realize how much they're learning until suddenly they're speaking their new language like a native!
Now that December is upon us, our teachers across all three centres will be working hard to give every student the perfect mix of serious study and holiday fun! Learning games are a given every day here at The Language House, but December is also the time when all of our students will be taking end-of-term exams too, which for most of our students takes the form of preparation for followed by a mock Cambridge exam as they prepare for the real thing in 2018.
Our administrators are also busy this month organizing new classes beginning in January, so if your New Year's resolution is to finally enroll in that Spanish class you've been contemplating, now's the time to get in touch! Our teachers will get you excited about learning -not to mention speaking Spanish, from day one!